Hi, Everyone!
Peep my latest obsessions. *Siiiigh*
BOYFRIEND JEANS
Am so loving this recent trend. Not only do these slouchy jeans give you the freedom of
total coziness and comfort; the cropped style as well as the holes in 'em keep you cooler in the warm weather! And I love how they can be dressed up (with heels or wedges and a tailored blazer) or dressed down (with flip flops or sneakers and a vintage tee).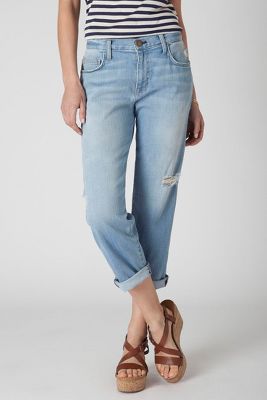 Seven for All Mankind "Josefina Skinny Boyfriend"


WATCH WHAT HAPPENS LIVEOmg, so this is my new favorite show. Although it's been on for a few seasons, I've only recently started watching it, and for those of you who don't, you MUST! Bravo exec and TV personality Andy Cohen hosts this not-so-basic talk show, and here are some of the things that make it so much FUN:

It's the only live talk show in late-night. (It airs Sunday - Thursday nights on Bravo at 11pm and is live on the east coast only.)
This is not just a talk show; it's also a drinking game! At the beginning of each show, a secret word pops up on the screen that the guests don't know about (for example, when Jerry Seinfeld was a guest, the secret word was "Seinfeld"), and every time that word is said throughout the show, you're supposed to take a sip of whatever you're drinking.
The show is full of silly questions and games, such as "Plead the Fifth," where Andy asks each guest a series of three embarrassing questions. They can plead the fifth to one of them, but they must answer the other two!
The whole vibe in general is way more relaxed because the guests are actually given drinks. So natch, they're a bit more loosened up!
The guests are interviewed at the same time, and it's super fun to see the odd pairings. Take a look at the pic below from a recent episode of John Mayer and Dan Rather doing a "shotski" (shots off of a ski). If this doesn't make you wanna watch this show, nothing will!
Learn more about WWHL here!
SHESWAI NAIL LACQUER'S "BABE" FROM THE SPRING/SUMMER 2012 COLLECTION

Ooooh, this is absolutely my new favorite color for the spring and summer months!
Looks great on both your fingers AND your toes. And the fresh color is different than all of the other pinks out there due to it's watermelon-y finish...perfect for this time of year! Pick it up here!