Welcome to the third installment of The Glamour Addict Holiday Gift Guide!
Peep this classic bit o' Christmas below...Happy Shopping!
Rebecca Minkoff Zipped Up Earphones - $48
Diane Von Furstenberg Heart-Print Ear Buds - $25
Rebecca Minkoff
(Click to Enlarge)
DVF
Who says ear buds have to be boring? Add a little glamour to your
listening experience with either one of these fashionable options! The Rebecca Minkoff buds are GENIUS: Not only do the pyramid studs give them a VERY cool look, but the rock n' roll-style zippered detail prevents tangling! The DVF buds are just the sweetest. AND, bonus: they're designed to reduce surrounding noise.
Sabon Patchouli Citrus Shower Oil: Gentleman's Collection - $25
OMG, this shower oil is BEYOND! As someone who's not a big fan of patchouli OR citrus, I didn't think I'd like it, but neither scent is overpowering at all. In fact, it doesn't even smell like a particular fragrance...it just smells SEXY! It's the PERFECT gift for any man in your life, but women have been snatching it up for themselves as well, it's soooo divine.
Lauren By Ralph Lauren Commuter Gloves - $42
My favorite trend of 2011 has gotta be the touch gloves that I'm seeing everywhere!
Designed with either touch-sensitive finger pads or slits cut out in the thumb and index finger, these puppies allow you to use your mobile device while keeping your hands nice n' cozy in the cold weather! GENIUS. This is a fantastic gift idea...I mean, who doesn't need a great pair of gloves?! For more touch glove options, click
here
.
Wooden Ships Flapper Headscarf/Knit Flower Headband & Earwarmer - $22.99
Honestly, if you need an ego boost, just wear this adorable knit headwrap, sit back, and
get ready to graciously accept all of the compliments that come your way! It is by far my favorite outerwear accessory I own: feminine, sweet, and adorable. AND, it makes a PERFECT gift - one size fits all. Doesn't get easier than that!
River Island Black Skull Print Faux Fur Trim Cape - $40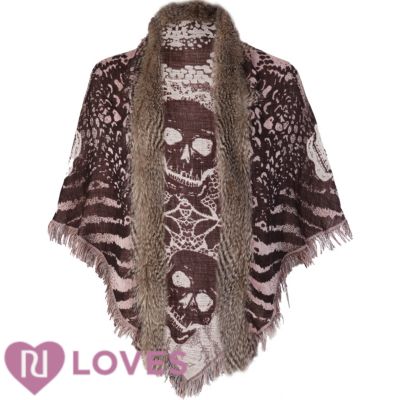 (Click To Enlarge)
I just...I just CAN'T with this cape from River Island...RIDICULOUS! It's even been marked as one of the River Island favorites, as you can see by the stamp of approval on the left. The skulls create an edgy and cool vibe, while the fur trim keeps it soft and feminine. This is a great gift option for the fashionista because it's just SO unique! Plus, it's one size fits all! Convenient AND stylish? *Sigh* Heaven!